As the board exams are on, The pressure is also on because the CBSE board is about to announce the term 2 date sheet for class 10th and class 12th students on the official website of CBSE.
CBSE has successfully conducted board exams for classes 10 and 12 in 2021-22 and plans to conduct term 2 in the months of March and April.
Things are quite out of control right now because of the COVID-19 new variant (omicron) breaking out and frequently increasing cases in India. Things might take a turn.
For updates, you can visit: cbse.gov.in
CBSE term 2 date sheet 2022 will be announced soon
CBSE has recently updated their websites with vacation and safety measures for students aged 15–18. CBSE is going to soon update the schedule of the upcoming term-2 CBSE exams in 2022. Most of the exams are going to be conducted in the months of March and April 2022. In addition, the date sheet will be made available on CBSE official portals.
CBSE official portal: Cbse.gov.in
CBSE Notice regarding Fake News about an exam pattern change
After noting so many fake news portals on the web, CBSE recently warned students about fake news and advised them to keep an eye on the CBSE official portal for all details regarding Term-2 CBSE class 10th and class 12th exams and the pattern of the exams.
Here is the official notice.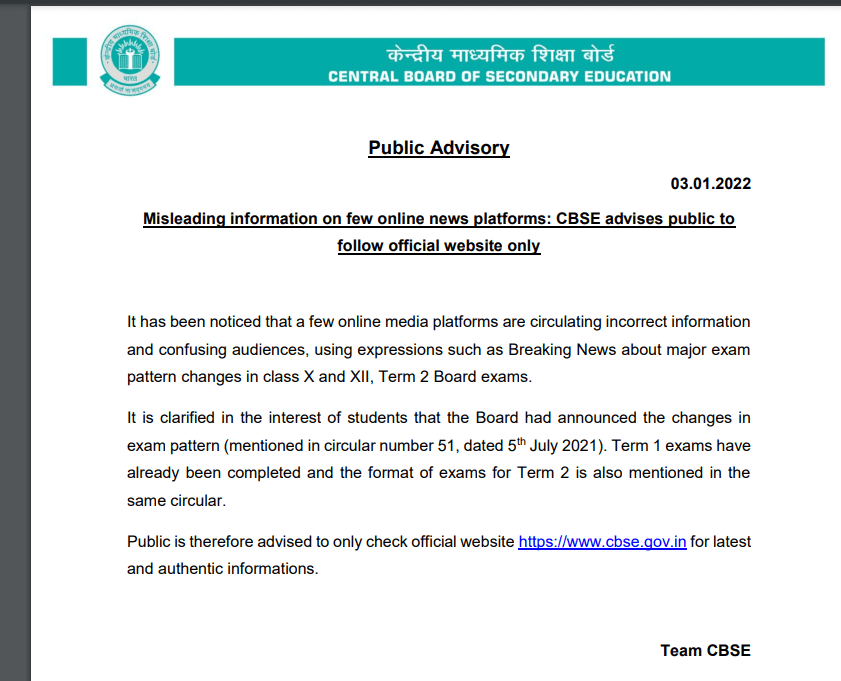 CBSE Syllabus for term 2:
The CBSE term 2 syllabi are already available on the CBSE official web portal. You can use the link below to check the details.
Also, read.
Revision tips for board exams.
How to overcome fear of board exams.
Best reference books for class 12th.
Share and subscribe to the blog by email.