The vibrant and diverse real estate sector presents a wide range of prospects for investors, developers, agents, and enthusiasts. Books can be your useful guide, whether you are a novice who is prepared to dive into this real estate industry or someone who wants to hone your talents.
In this post, we'll look at 12 of the best books that may guide you through the complexity of real estate, help you make wise choices, and help you succeed in your real estate ambitions.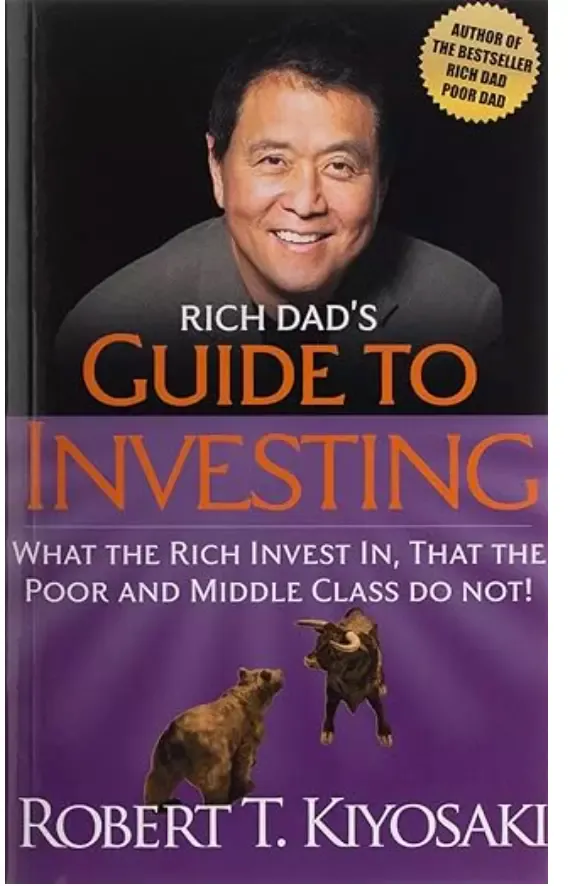 Although real estate is not the main subject of Rich Dad and Poor Dad, it serves as the basis for your real estate endeavour. This self-help book has significantly influenced how many people think about money and accumulating riches.
The book uses a storytelling technique to teach various readers about money. The key to unlocking the idea of real estate investment is found in these financial lessons. Robert Kiyosaki places a strong focus on the role that real estate plays in accumulating wealth.
The book has received criticism over the years for oversimplifying financial principles. However, it has also received praise from a sizable following for inspiring readers to take charge of their financial situation.
The book's principles and concepts should be considered as a part of the readers' overall financial education, so it is important that they read this book with an open mind. As an introduction to the world of personal finance and wealth creation, it is both inspirational and thought-provoking.
Important lessons from the book
The significance of financial literacy
Asset vs liabilities
Business ventures and investments
"Rat race"
Investing in real estate
Eric Tyson and Robert S. Griswold's "Real Estate Investing for Dummies"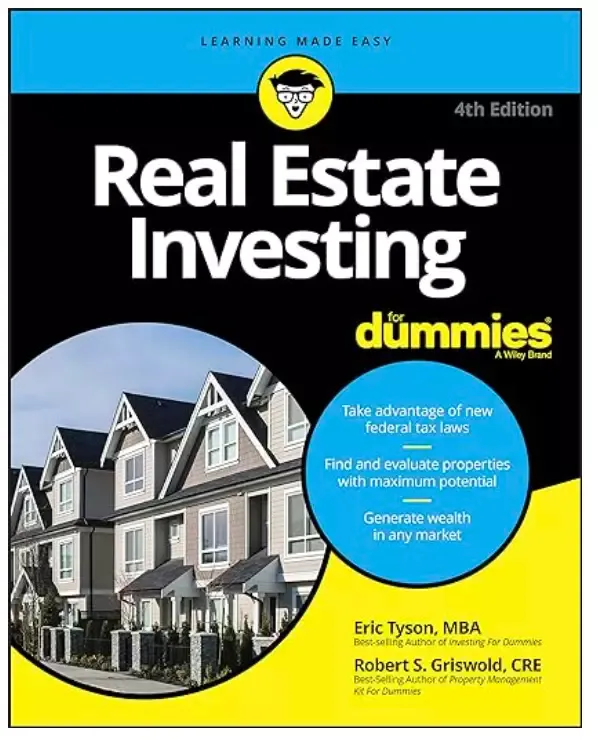 The book provides a comprehensive introduction to the various aspects of real estate investing, making it a valuable read for those who want to start their journey in this field. The 'For Dummies series by Eric Tyson and Robert S. Griswold is known for its accessible and engineer-friendly approach to complex topics. This book serves as the perfect guide for those who are new to the field of real estate and investing.
The book underlines the idea of thorough market research while investing in real estate and shows why real estate investing might be something you should focus on and how it can be a profitable investment plan.
As a beginner, you should pick up this book, as it will help you understand the fundamentals of real estate. The book explains various financial methods, including conventional mortgages, the idea of effective property management, and tax strategies for investors. All such topics are very well covered in this book.
Important lessons from this book
Market analysis and choosing a property
Property administration
Mortgages and funding
Authentic case studies
Market timing and cycles
Management of risk
Legal and tax implications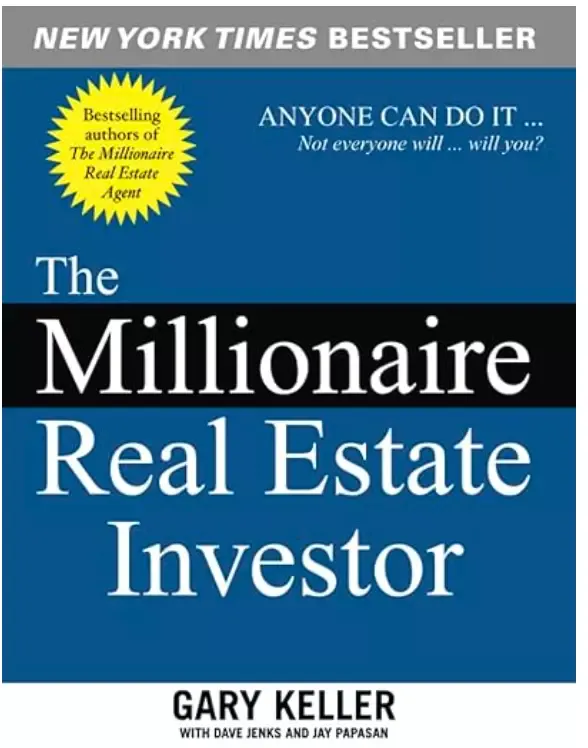 For anyone looking to enhance their wealth through real estate, Gary Keller, Dave Jenks, and Jay Papasan's book "The Millionaire Real Estate Investor" is a must-read.
The book presents a comprehensive roadmap for success in the real estate investment industry. It draws on extensive research and interviews with more than 100 successful real estate investors to provide significant insights and methods.
By drawing on the knowledge and experience of real estate investors, this book serves as a roadmap for many aspiring real estate investors. It is inspirational as well as informative, encouraging readers to set ambitious financial goals, take action, and preserve their real estate journey.
The main lessons to be learned from this book are:
The wealth creation strategies described in this book
The mindset of millionaires in real estate
Various real estate investor profiles depend on objectives and risk tolerance.
This book explains a wide range of real estate investment methods and approaches.
The key ideas that are crucial for investments are covered in the book.
The book includes case studies and real-world examples to motivate readers.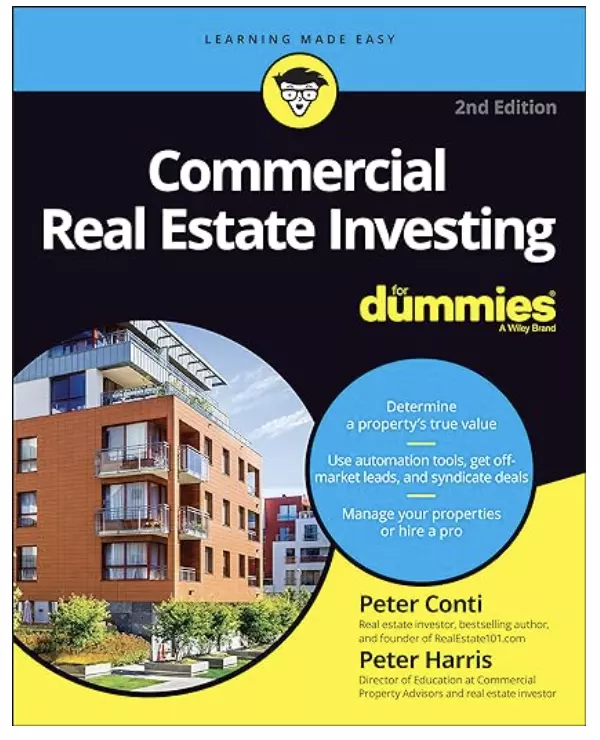 The book is an excellent resource if you're interested in learning more about commercial real estate investment. This book, part of the Dummies series, demystifies complicated ideas and offers real-world advice for investors in commercial real estate.
The book will explain the distinctions between residential and commercial real estate. This book also discusses numerous commercial real estate strategies like buy-and-hold, value addition, revenue-producing, and other similar ideas.
Go for this book and thoroughly understand the concepts it explains if you're interested in getting into commercial real estate or want to increase your present portfolio of commercial properties. The book breaks down and clarifies the complex subjects so readers of all experience levels can understand them.
This book gives you the knowledge and resources you need to make wise decisions, take advantage of investment opportunities, and manage the complexities of commercial real estate investment, whether you are a novice or an expert in commercial investments.
Important lessons from this book
Gaining knowledge about commercial real estate.
Investment methods
Commercial property financing
Property evaluation
Tax repercussions
Management of risk
Portfolio expansion
Market timing and cycle
Authentic case studies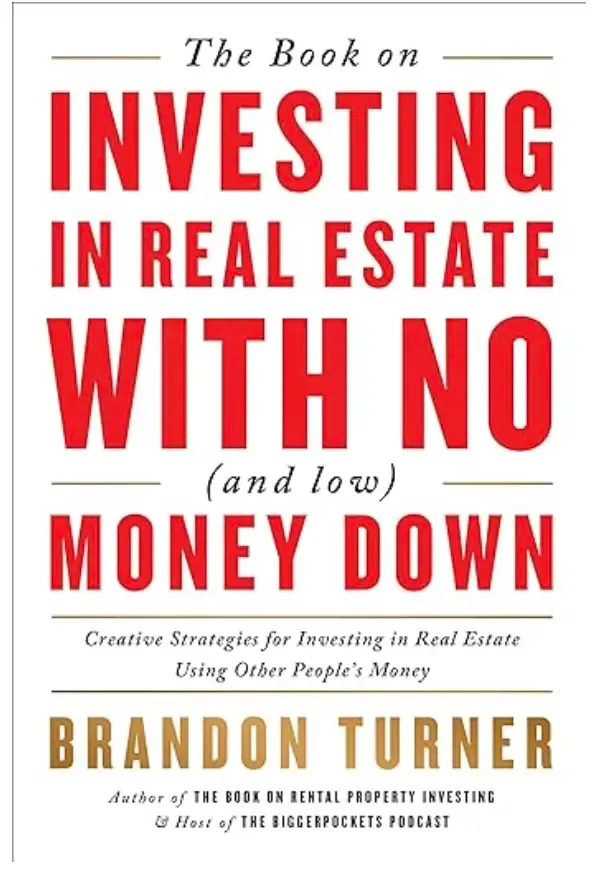 This book offers an authoritative and thorough approach for anyone seeking a deep understanding of the financial and analytical aspects of real estate investing. Investors and professionals looking for a well-data-driven book on real estate should definitely choose this one.
The book covers economic aspects and market dynamics that affect property valuations and investment decisions, in addition to discussing the relevance of market analysis in real estate investments.
This academically oriented, rigorous book is for those with a keen interest in the financial and analytical aspects of real estate investment.
Important lessons from this book
Market research
Valuation strategies
Management of risk
Statistical analysis
Property financing
Actual instances
Legal and governmental issues
Worldwide Perspectives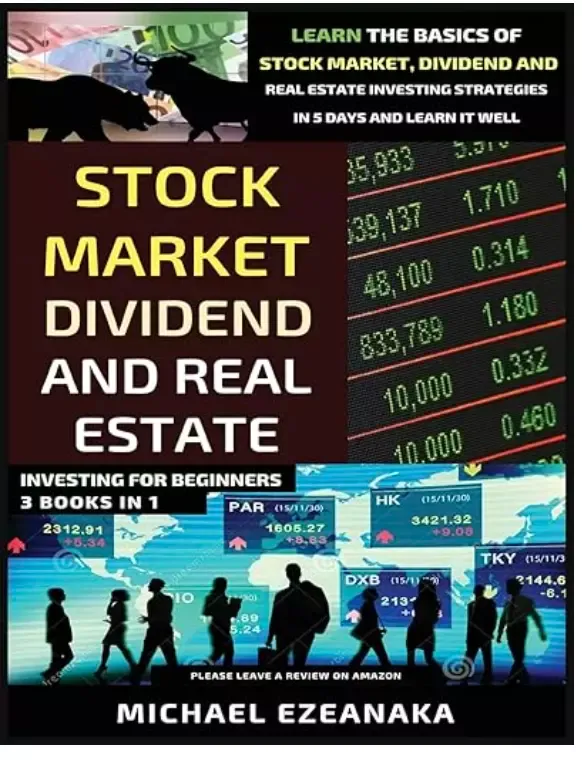 If you're searching for a straightforward resource to help you get started in the real estate market, or if you're just interested in learning more about it, then this book by Michael Exeanaka is for you.
Throughout this book, readers will find real-life examples and case studies that will illustrate the key concepts and strategies, helping them to understand how these real-life examples should be applied practically in the real world. Michael Ezeanaka gives the readers a foundational knowledge of what real estate is, including information about both commercial and residential properties.
Although this book doesn't delve into deep and complex financial concepts, it gives readers the basic information that encourages them and gives them confidence in their ability to enter the world of real estate. The book offers practical advice as well as actionable steps for the readers that will help them get started.
Important lessons from this book
Investing in real estate basics
Advantages of investing in real estate
Property choice
Funding and financing
Management of risk
Real estate techniques
Legal considerations
Actual instances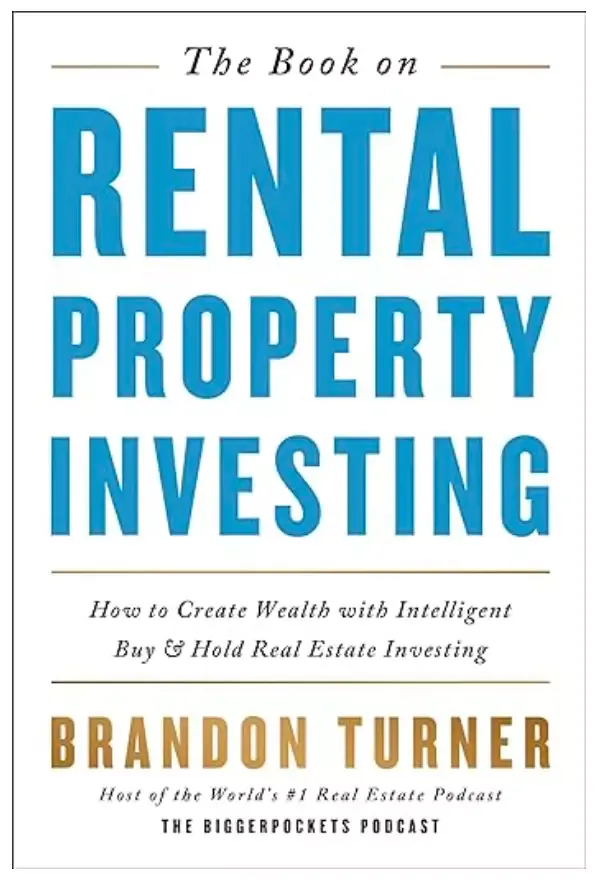 Brandon Turner is a well-known real estate investing community name and a co-host of the Bigger Pocket podcast. He brings to this comprehensive guide his expertise and practical insights that he has learned throughout his life. The book is highly regarded by those interested in building their wealth through rental properties.
Turner's real-world experience and relatable writing style make this book practical and engaging. It is a valuable resource for beginning and seasoned rental property market investors. It covers many topics, making it easier for readers to understand key concepts and practical strategies.
In addition, readers must conduct additional study and due diligence to customise the investment methods to their particular needs and objectives.
Important lessons from this book
Investing in rental property knowledge
Rental property types
Location and choice of property
Financial tactics
Property purchase
Property administration
Portfolio expansion
Tax advantages and tactics
Exit techniques
Actual instances
Advanced techniques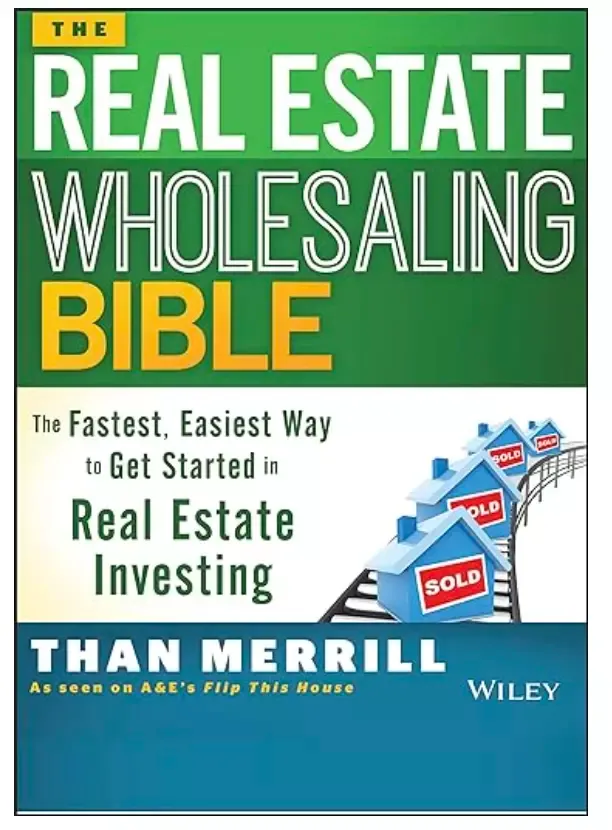 Merrill is a real estate investor, and the author of this book wrote this to help people make money through real estate wholesaling. This book comprehensively focuses on the real estate wholesaling strategy, which is a very popular method of making money in the real estate market.
Finding distressed properties, securing them under contract, and then profitably selling those contracts to other investors is the process of wholesaling.
The book is a practical and detailed guide for people who are interested in pursuing real estate wholesaling as a strategy for making money in real estate. Merrill provides insights into scaling operations, managing teams, and automating processes for investors interested in growing their wholesaling businesses.
Due diligence and adherence to local rules and regulations are highly important for success with any real estate research plan.
Important lessons from this book
Getting started with wholesale
Finding bargains
Deal analysis
Agreement negotiating
Creation of a buyer's list
A consideration of the law and ethics
Branding and marketing
Money for deals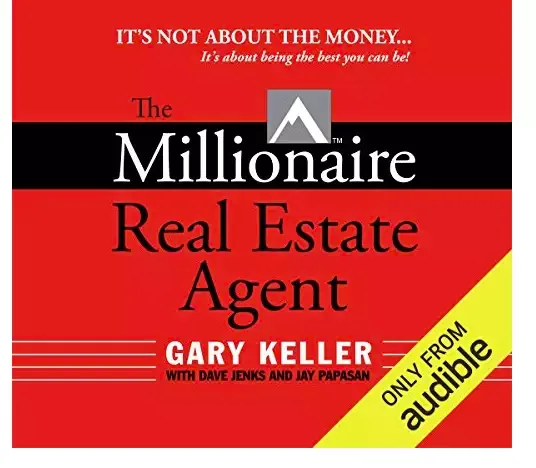 This book is the go-to resource for real estate professionals, particularly those who want to flourish in their careers and make significant financial success.
The book, part of the well-known Keller Williams Realty Millionaire Real Estate series, is based on research and interviews with top-performing real estate agents. A millionaire real estate agent is defined in this book as a person who achieves financial independence through real estate sales.
If real estate professionals are serious about developing their careers and moving them forward, they should pick up this book. It offers a thorough foundation for creating a successful real estate firm, setting and hitting financial targets and excelling as an agent. Although this book primarily aims at real estate agents, it will also benefit other real estate professionals and business owners who want to create profitable real estate operations.
Important lessons from this book
A billionaire real estate agent's profession
The role models of millionaire real estate agents
Creation of leads and conversion
System and technology importance
Financial administration
Management of time
Excellent customer service
Getting to the millionaire level
Scaling up and developing a team
Success stories from real life.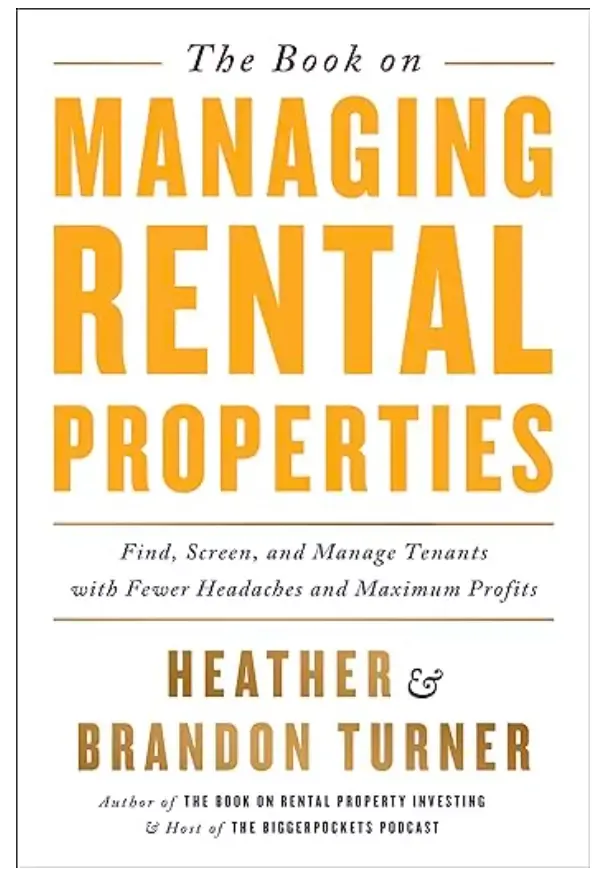 The book, written by successful real estate investors and co-hosts of the BiggerPockets podcast, offers comprehensive insights on various facets of property management and is a must-read for landlords and property managers who want to manage their rental properties effectively and want to maximise their returns.
The book begins by laying out the fundamental concepts of property management, emphasising the value of professionalism, knowing the laws governing renters and landlords, and providing clear guidelines for both landlords and tenants.
This book gives you the tools and knowledge that will help you effectively manage rental properties, and it is a great resource for landlords and property managers of all levels. It offers guidance, real-world examples, and downloadable templates and forms to help property owners navigate the challenges and responsibilities of rental property management.
Important lessons from this book
Tenant screening
Lease contracts
Servicing and repairing
Dealing with challenging circumstances
Real estate inspections
Financial administration
The expansion of your rental portfolio
Regulation and legal compliance
Programmes and tools for property management
Tenant relations and communication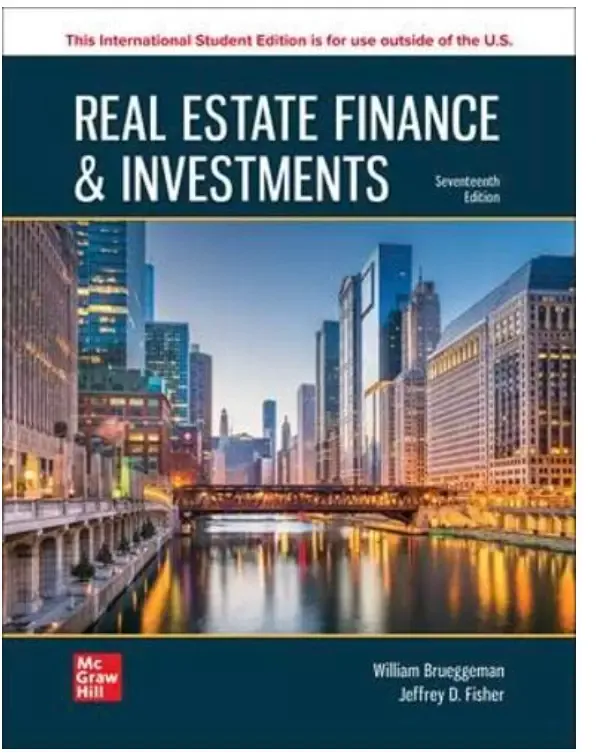 This book is valuable for students, professionals, and anyone looking for a deep understanding of real estate finance and investment analysis. It is a widely used and respected textbook that provides a comprehensive overview of real estate finance and investment principles.
Mortgage markets, interest rates, and the effects of economic considerations on real estate are just a few of the topics that are thoroughly covered in this book, which provides readers with an introduction to the structure and operation of real estate markets.
Although the book is used in academic settings, real estate professionals, investors, and analysts who want to expand their knowledge about real estate finance and investment settings should choose this book if they want a deep understanding of the financial and analytical concepts of real estate.
Important lessons from the book
The market for real estate financing.
Analysis of investment properties.
Financing investments in real estate.
Management of risk.
Performance metrics for real estate investments.
Investment methods.
Tax implications.
Actual instances.
The book's goal is to assist real estate investors in maximising tax savings and optimising financial strategy. The book, which is a part of the "Bigpocket" series, was written to assist real estate investors in navigating the complicated world of real estate taxation.
The book emphasises how crucial it is to understand the tax ramifications of real estate and demonstrates how wise tax preparation will have a big impact on overall earnings.
The book offers actionable techniques, demystifies complicated tax ideas, and provides real-world guidance on real estate taxation. Regardless of expertise level, the book will assist readers in navigating the tax system and coming to informed tax judgements that align with their real estate investment objectives.
Important lessons from the book
Investing in real estate tax efficiently.
For real estate investors, tax fundamentals
Entity choice
Tax write-offs and deductions
1031 transactions
Tax breaks
Long-term vs. short-term tax planning
Account for self-directed retirement.
Effects of various real estate
Techniques on taxes
Real estate professionals' tax planning
Last words
These publications serve as useful compasses for assessing the complexity of the real estate world, which is diverse and complex. There is a book for every purpose, whether you are interested in real estate development, finance, sales, or legal and tax issues.
As you go through this article's titles, remember that information is power and that success in the real estate profession depends on ongoing learning. Good reading and prosperous investing!
Also read the following:
Why note-making is important for students to excel in exams?
How To Read 50+ Pages a Day Step By Step Details.
Best Fictional books you can read this year to light up your mood.
Share and subscribe to the blog by email.